Greentree is a sophisticated ERP system that works as an enterprise engine room. Ultimately, Greentree helps businesses to improve processes to make their business more effective and profitable through automation.  The integrated solution helps businesses to gain confidence within their financial management, supply chain & distribution, human resource, and customer relationship management just to name a few.
Why integrate your EDI with Greentree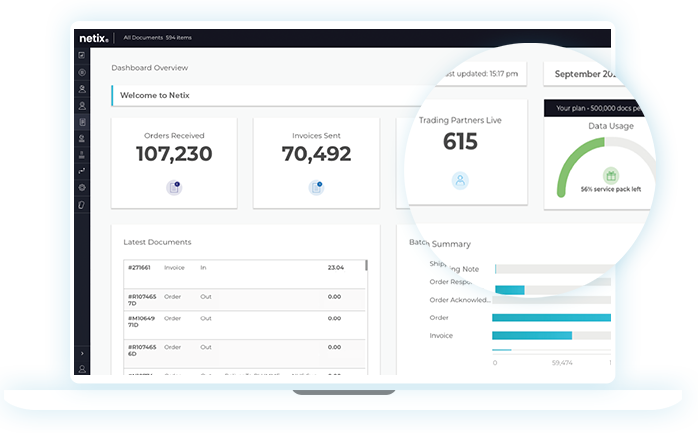 By integrating your Electronic Document Interchange (EDI) data with Greentree, you can enhance the visibility of your digital supply chain and business intelligence by centralising electronic documents. With Netix Flow's flexible integration, you have the ability to automate your business operations, streamline communication with your trading partners, and eliminate the risk of errors and delays.
Discuss EDI integration
Discover the benefits of Netix Flow

Visibility
Accurate data updated in real-time will allow you to make data-driven decisions with confidence.
Futureproof
Our fixed pricing structure is a future-proof model, incorporating message changes dictated by your trading partner to enable your business to grow without extra development costs.
Adaptive
Using a modular approach to integration, Netix Flow can easily change or upgrade connected systems without developmental costs.
Stability
Netix Flow was designed to grow with your business – we use pre-configured trading profiles to enable our customers to quickly expand their eco-system.
Direct EDI integration with Greentree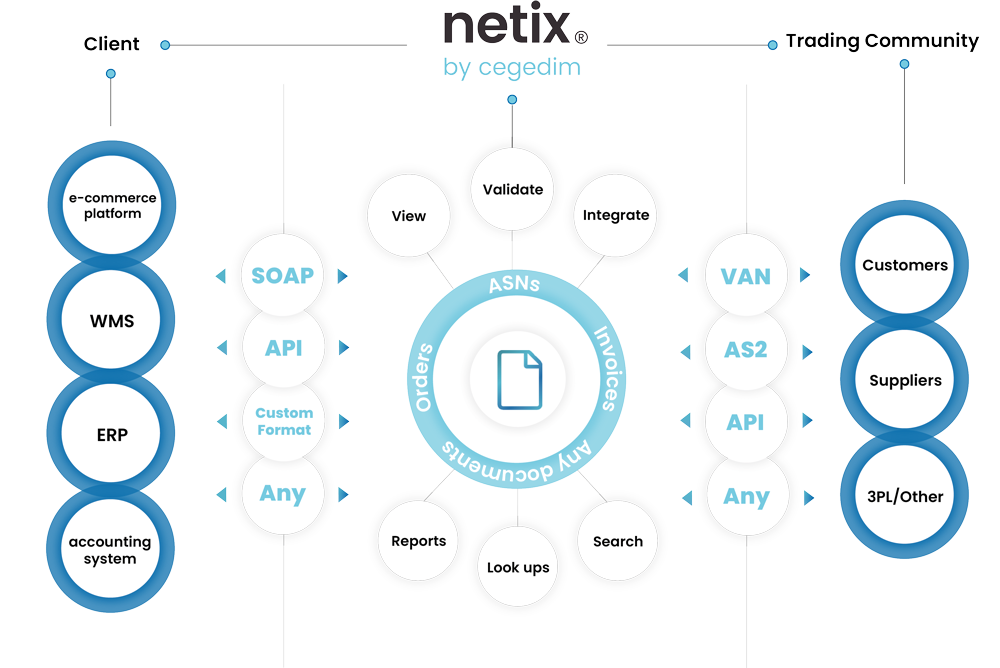 Netix Flow's integration provides your company with unrivalled control and visibility, as the platform directly integrates with Greentree to automate the transfer of EDI business documents. Designed with simplicity in mind, Netix Flow connects with Greentree's API using pre-built modular API integrations. With the goal of ensuring that all organisations, regardless of size, can effortlessly integrate their EDI information directly into their ERP systems. To give you the most flexibility, you can choose between a custom integration or an 'off-the-shelf' ready-to-deploy connection. This method allows you to quickly deploy a standardised integration at the appropriate price point. Whilst allowing you to expand on standard connection to provide a fully customised solution.
Discover Netix Flow
Going beyond traditional integration
Utilising our own API connectors
The scalable and adaptable nature of Greentree works cohesively with Netix Flow. As your trading network expands, Netix Flow can grow with your business. We use pre-configured trading partner profiles to prevent connection delays, this means that thousands of the leading retailers are pre-built within eco-system, ready for your system to connect!
Netix Flow offers business a straightforward solution to manage your company documents. The platform's configurable validation procedure ensures that no incorrect data is pulled through into Greentree, preventing your system from being flooded with irrelevant information. The direct and automated integration consolidates your EDI data in real-time, eliminating the need to search various platforms for critical information, as well as optimising processes within your team.
Exchange various EDI messages with Greentree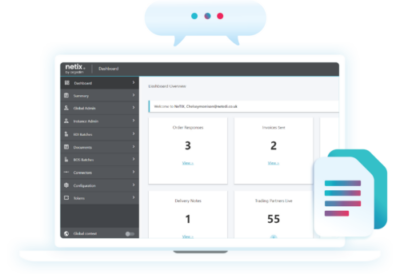 Our standard integration with Greentree allows you to quickly adopt:
Orders
Delivery Notes
Invoices
Credit Notes
We're always looking to expand on our integration, if you require other message types, please feel free to reach out.
Speak to our team
Our EDI integration onboarding process
Analyse business processes
Our EDI integration starts with a thorough examination of current operations and the identification of areas that can be automated. Our experienced team of specialists, offer valuable insights, suggesting enhancements to processes while outlining timelines, costs, and technical requisites. This strategic approach ensures a smooth and simple integration procedure.
Identify EDI message types
We identify the precise EDI requirements to be tailored to your business, encompassing necessary EDI message types and communication protocols. The most prevalent message types we encounter in our integration with Greentree are purchase orders, delivery notes, invoices, and credit notes.
Configure your EDI solution
We tailor the solution to align with your requirements. This involves configuring trading partner profiles and mapping EDI data to relevant fields in Greentree. Leveraging pre-configured profiles, we streamline the setup and integration for an efficient process. Furthermore, we have the capability to establish validation and business rules within the EDI integration, upholding data integrity, conducting necessary validations, and effectively managing exceptions or errors during data exchange.
Test and validate
A thorough analysis of the EDI integration is performed prior to the launch of your system to identify problems or irregularities. This includes checking data mapping, finding any missing or incorrect fields, and responding quickly to any issues that arise. We mimic real-world circumstances to ensure that the entire process runs smoothly, from message creation through message integration with your internal systems.
Ongoing maintenance and support
Following a successful integration deployment, ongoing support is crucial to maintain optimal operations. Our 4.9-star rated UK-based support team is here to help you. Their goal is to offer experience advice, in a quick and efficient manner.
Explore our managed service
Want to know more about Netix Flow's EDI integration with Greentree?
Speak to an expert today
Enter your details below or call us on +44 (0) 1772 977781