Integrate your EDI information with Unleashed inventory software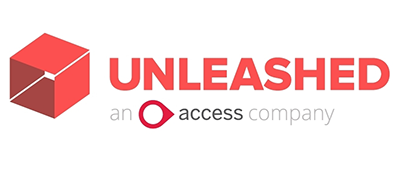 Further streamline your inventory management processes, and gain real-time visibility into inventory levels, sales orders, and purchasing by integrating your EDI (Electronic Data Interchange) data with your Unleashed software. Reduce errors from manual labour and improve accuracy by automating the information flow of:
Purchace Orders
Invoices
Advance Shipping Notices (ASNs)
Speak to our team
Discover Netix Flow
Achieve unmatched control and visibility by automating the flow of your business information.

Visibility
Accurate data updated in real-time will allow you to make data-driven decisions with confidence.
Scalability
Netix was designed to grow with your business – we use pre-configured trading profiles to enable our customers to quickly expand their eco-system.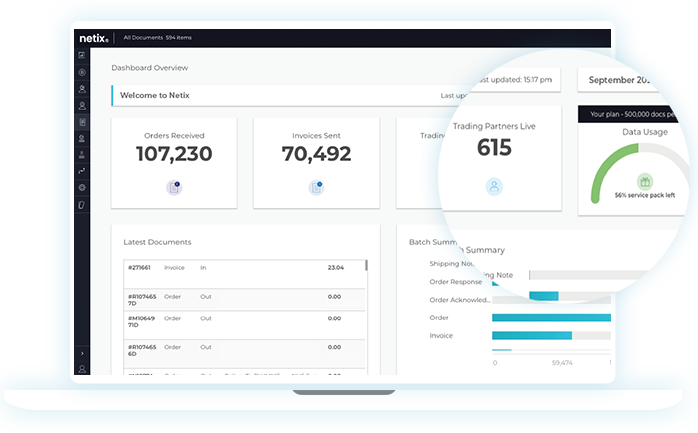 Futureproof
Our fixed pricing structure is a future-proof model, incorporating message changes dictated by your trading partner to enable your business to grow without extra development costs.
Adaptive
Using a modular approach to integration, Netix Flow can easily change or upgrade connected systems without developmental costs.
Benefits of integrating EDI with Unleashed
Integrated and automated EDI software significantly reduces the need for and risk of manual data entry, improving overall efficiency and accuracy, reducing the risk of chargebacks and other penalties.
Real-time visibility into sales orders and purchasing, allowing you to make more informed decisions about your supply chain.
Ability to scale operations more effectively, as you can handle larger volumes of transactions and process them more quickly.
Discuss Unleashed integration
Integrations and more

Our ability to integrate with a wide range of different systems is key for making Netix Flow a powerful tool for businesses looking to streamline their supply chain processes and improve efficiency. We use pre-configured, standard connectors to enable seamless integration, ensuring that data is exchanged accurately and efficiently.
Discover Netix Flow
Going beyond traditional integration
Traditional EDI integration involves the use of specialised software to convert electronic documents into a standardised format for exchange between trading partners. While this approach has been widely used for many years, it is now considered outdated due to its complexity, high costs, and inflexibility. Businesses are turning to newer, cloud-based EDI solutions for greater flexibility and scalability.
We built Netix Flow with ease of set-up and use at the forefront. With our broad offering of connectors and pre-built integrations, your business is able to quickly and easily integrate with a variety of different systems, including popular ERP platforms like Unleashed.
We create a seamless link between Unleashed and your external information by utilising Application Programming Interfaces connectors. APIs allow two platforms to exchange information with each other in a safe and secure manner, ensuring information is exchanged in real-time.
Speak to our team about integration
Set your business up for flexibility and growth
Integrating with Unleashed
Setup
The first step is to set up your Netix Flow account and connect it to Unleashed. This typically involves providing your Unleashed API credentials, which allows us to access your Unleashed data. Information including EDI standards (EDIFACT, Tradacoms or X12) and communication protocols (FTP, AS2 or HTTPS) will be established at this stage.
Mapping
We will work with you to map your EDI documents to the corresponding data fields in Unleashed. This mapping process ensures that data is accurately transmitted between the two systems. We utilise pre-configured mapping to allow this stage of the process to run quicker and smoother. With the option to tailor your EDI integration, you can ensure the solutions work together to better meet your business requirements and manage your inventory more effectively.
Testing
Our specialists first work with you to define the scope of your end-to-end testing, then assume responsibility for coordinating testing activities. We'll handle the details such as defining project milestones and providing regular progress updates, so you can rest easy knowing that your system has been rigorously tested and the integrity of your data flow is guaranteed. We will send test transactions to your Unleashed system and verify that the data is accurately transmitted and received.
Go Live
Now you can go live and start feeling the benefits of the integration. From this point on, Netix will automatically exchange EDI transactions with your trading partners through Unleashed, saving you time and effort. The Netix system will provide monitoring and track in-flight transactions and processes against preconfigured rules to ensure the efficiency of your B2B operations.

Netix Flow and Unleashed: connecting and automating workflows
Learn how Netix Flow integrates into your Unleashed software to give your business full visibility and the ability to trace your exchanged messages from end to end.
Industries that benefit
from a Netix to Unleashed integration
A reliable EDI provider
UK Based Customer Support
Utilising a EDI provider with impeccable aftercare is essential, that is why we offer a wealth of resource through our Support Team. Our UK based support with 4.9 star rating demonstrate their commitment to providing excellent customer service. Our varying support packages means that your business can tailor their services to their needs, ensuring that businesses get the right level of support at the right price.
We partner with Unleashed!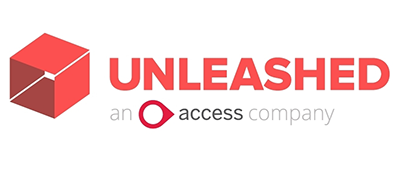 As an Unleashed partner, we work collaboratively with their team to ensure that we can provide an end-to-end solution and service for customers using Netix Flow and Unleashed. Our customers can streamline their entire digital procurement process and optimise their inventory management. This seamless integration empowers businesses to enhance efficiency and achieve greater control over their supply chain, leading to improved productivity and overall operational excellence.
What our customers have to say

Pros for us is that it is really easy to use. Cegedim e-business give great customer service and are always fast to respond.

Meg – Operations Manager
Nurture Brands Ltd

Want to know more?
Using Netix with Unleashed helps you streamline your inventory, order, warehousing and logistics management.
If you're interested in learning more about integration into Unleashed:
Please fill in the form below,
one of our specialists will be in touch with you shortly.