EDI-ERP Integration
A modular approach to integration
If you're looking for a reliable and secure way to integrate your ERP system with your trading partners, you need to implement Netix Flow. A fully integrated EDI solution, its unique approach that eliminates the need for third-party connectors, it provides a more seamless, cost-effective, and secure integration process.

The platform utilises various connectors, including Application Programme Interface (API) to offer a quick and direct method of connection. Businesses using Netix Flow can automate flows of real-time EDI information with their existing ERP system. Allowing organisations across all sectors to increase efficiency and establish end-to-end visibility.
Experience unparalleled control and visibility by syncing your business information

Visibility
Accurate data updated in real-time will allow you to make data driven decisions with confidence.
Scalability
Netix was designed to grow with your business – we use pre-configured trading profiles to enable our customers to quickly expand their eco-system.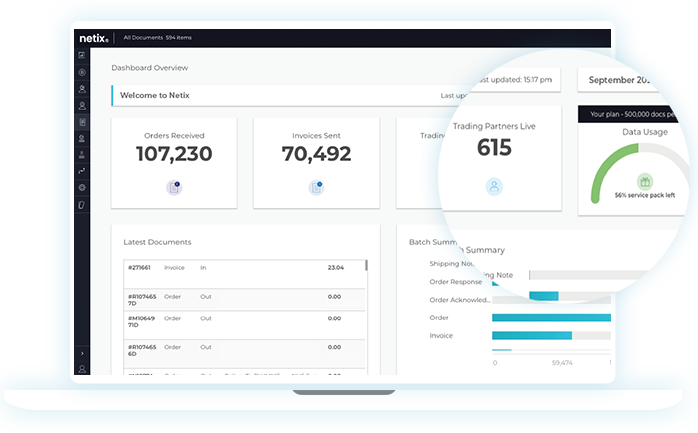 Futureproof
Our fixed pricing structure is a future-proof model, incorporating message changes dictated by your trading partner to enable your business to grow without extra development costs.
Adaptive
Using a modular approach to integration, Netix Flow can easily change or upgrade connected systems without developmental costs.
Optimising your supply chain through automation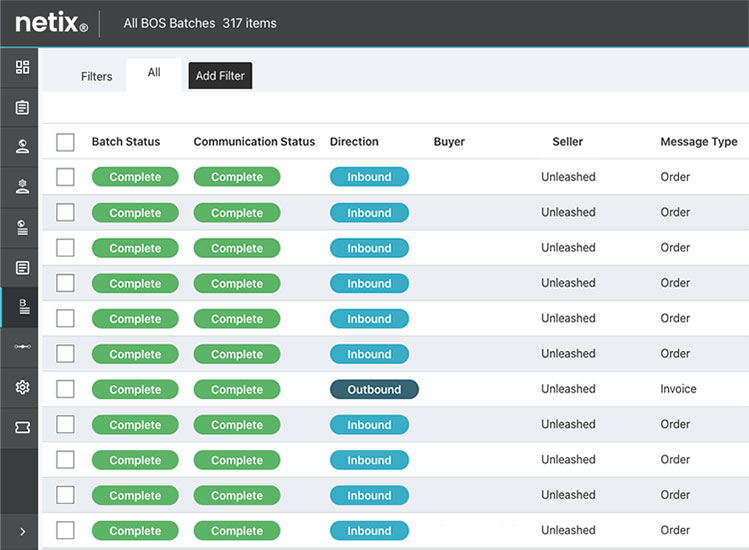 Are you looking for the speed and savings that come from automating key business processes? Netix Flow uses innovative technology to enable your business to trade in a modern ecosystem.
We use various connectors to allow your business to directly integrate real-time EDI information, helping your business to reduce manual data entry and errors. It's an efficient, more functional way to connect existing systems.
Book a demo
We do integration differently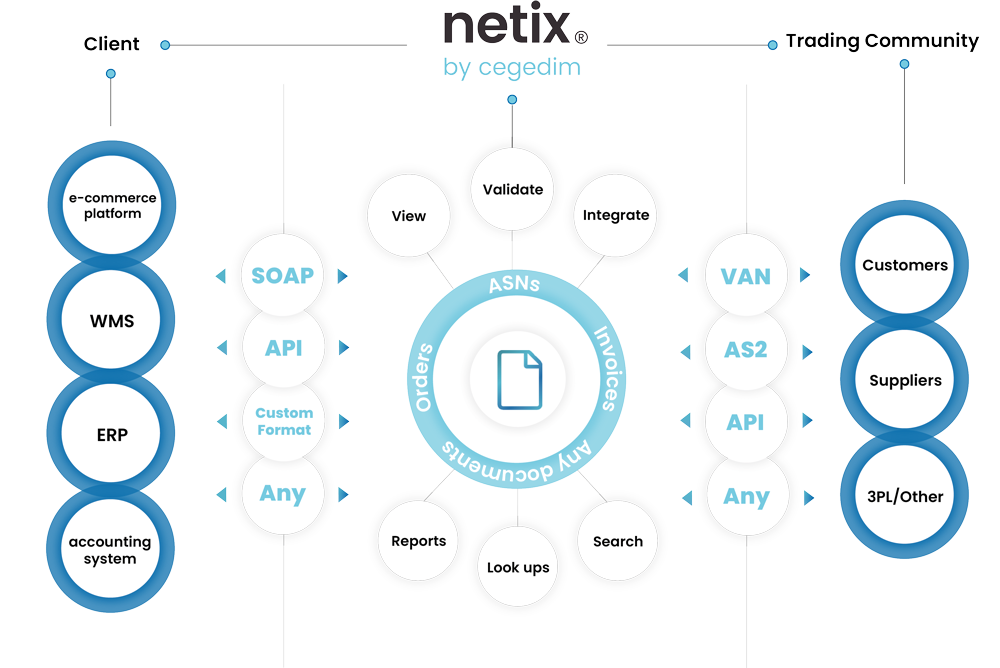 Traditional EDI integration has always been about file conversion and exchange. Your EDI provider translates your EDI message into a format compatible with your back office and then presents the file for you to import.
This fixed process is rigid and offers no flexibility for businesses requiring change. Adjustments in the ERP or EDI message structure will cause the EDI provider to rewrite the map and integration. For modern businesses this is a slow-moving and expensive process. Our definition of integration is different.
Cegedim e-business go beyond traditional integration methods by using a modular approach to integrate your ERP, WMS, accounting system or ecommerce platform into our cloud-based solution.
We understand businesses are constantly looking to improve their systems, Netix flow offers businesses the freedom to easily update or change their ERP, WMS, accounting system, or trading partner profiles.
We integrate with over 70 systems
Take a look at our most common EDI integrations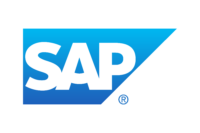 SAP ERP Integration
We offer a simplified approach to integrating SAP solutions with other systems in the enterprise by allowing customers to deliver integration faster with a greater scalability. We have extensive expertise in SAP integration, and a deep understanding of iDoc interface/ALE.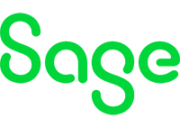 Sage Integration
Connect to Sage 50, 100, 200, 500 or 1000. Our Sage Integration delivers directly into your company's Sage program. A seamless link is created with Sage to securely connect to our cloud platform. We deliver greater functionality with less cost and greater efficiency than traditional EDI software.
Discover Sage EDI integration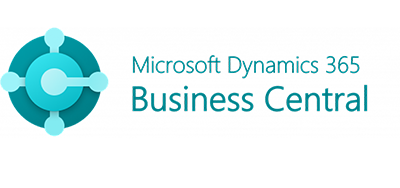 Microsoft Dynamics 365 Integration
With our direct integration into Microsoft Dynamics NAV, we make integration straightforward and easy to deploy. Enabling businesses to easily exchange sales orders, advance ship notices, invoices and other required documents.

Discover Microsoft 365 BC EDI integration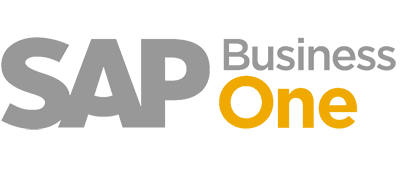 SAP Business One Integration
Our SAP Business One connector, you can quickly add new trading partners and easily scale for the future growth of your business. Our integrations allows your business to gain immediate access to more than 1,200 prebuilt connections to leading retailers, grocers and distributors.
Discover SAP B1 EDI integration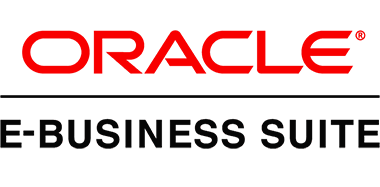 Oracle E-Business Suite Integration
Connect to your Oracle E-Business suite to create a universal B2B connection with your trading partners – automating end-to-end integration with suppliers, customers, warehouses and more. Exchange orders, shipping notes, invoices, warehouse shipments and other Oracle native Transaction Interface Files (TIF).
NetSuite Integration
Integrate NetSuite ERP with our EDI platform to connect your entire trading community. By leveraging our integrated EDI platform with NetSuite, you can connect to the leading web-based EDI platform and seamlessly integrate important order and invoice information from trading partners while eliminating costly keying errors.
Discover NetSuite EDI integration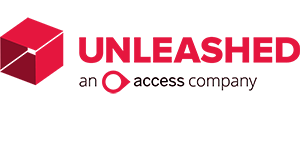 Unleashed Integration
Unleashed provide powerful online inventory management software and expert support. We can directly integrate with Unleashed, creating a seamless link between your inventory software and your EDI system. Gain ease-of-access to all your most crucial business information from one easy-to-use, online platform.

Discover Unleashed EDI integration

Xero Integration
Xero provides a powerful and easy-to-use tool that can help you manage all your mundane but essential bookkeeping tasks. Xero's software allows you to automate bank transactions, imports and payments, while their app allows you to view important information and run your business from anywhere.

Discover Xero EDI integration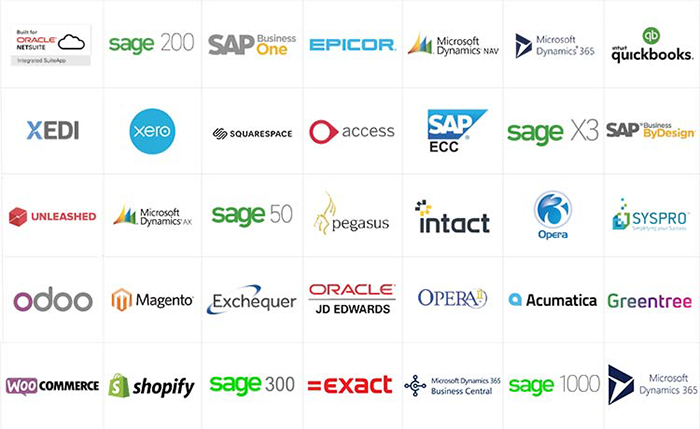 Netix Flow seamlessly integrates into your existing accounting, WMS, ERP, or ecommerce system. We remove the middle man to establish a direct connection with your system with no dependencies on third-party connectors. Data can flow into existing systems to help reduce the risk of errors and improve productivity.
Currently we can integrate with over 70 different systems. Including SAP, Sage, Oracle, NetSuite, Unleashed, Xero, and Quickbooks.
If you use a different solution that's not an issue, we actively want to grow our ERP base to support customers. Whichever solution you use, our in-house experts can advise on integration and manage the whole process of testing and updating your connected system.
Book a demo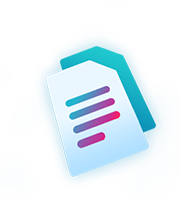 A futureproof pricing model.
We wanted to create a pricing model that reflected our values, we offer our customers fixed pricing that allows them to expand their trading network with no unexpected developmental costs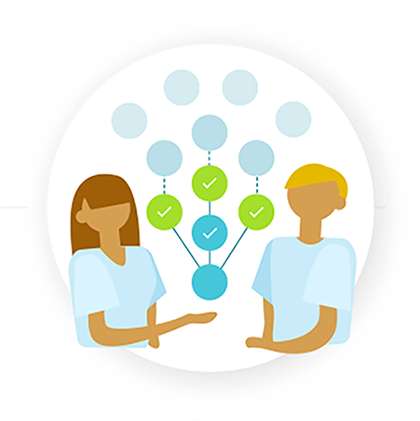 Implementation made easy
We want to make installation an easy process for our customers, relieving you of the burden of maintaining internal systems.
We manage the installation of your trading partner environment and test the processes from end to end. During the switchover period, we can provide project management and scenario testing to minimise the risk of interruption to your operations.
More Info
FAQ
The best platform for your business
Speak to an expert today
Enter your details below or call us on +44 (0) 1772 977781