Integrate your EDI business documents with Microsoft Dynamics Business Central

Microsoft Dynamics 365 – Business Central (formerly Navision) is a suite of enterprise resource planning (ERP) and customer relationship management (CRM) software applications. It is designed to help businesses manage their finances, manufacturing, operations, and customer relationships in one integrated system.
By integrating Netix Flow into Microsoft Dynamics 365 Business Central, you can automate your business processes, streamline communication with your trading partners, and reduce the risk of errors and delays.
How Netix Flow adds extra value:
We've built our own integrations meaning no need for third parties.
The ability to deploy an off-the-shelf, standardised or bespoke offering.
Quick deployment and maximum visibility.
Discuss EDI integration
Discover Netix Flow
Achieve unmatched control and visibility by automating the flow of your business information.

Visibility
Accurate data updated in real-time will allow you to make data-driven decisions with confidence.
Scalability
Netix Flow was designed to grow with your business – we use pre-configured trading profiles to enable our customers to quickly expand their eco-system.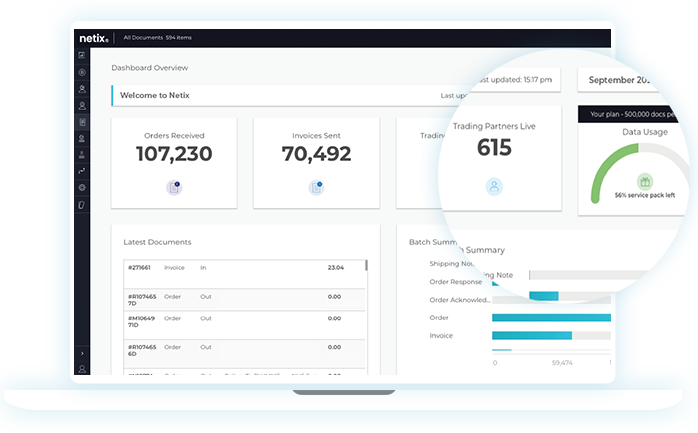 Futureproof
Our fixed pricing structure is a future-proof model, incorporating message changes dictated by your trading partner to enable your business to grow without extra development costs.
Adaptive
Using a modular approach to integration, Netix Flow can easily change or upgrade connected systems without developmental costs.
Going beyond traditional integration
Utilising our own API connectors
We built Netix Flow with ease of set-up and use at the forefront. With our broad offering of connectors and pre-built integrations, your business can quickly and easily integrate with a variety of different systems, including popular ERP platforms like Dynamics 365 Business Central. Easily update or make changes to your system and processes without the need to completely reconfigure the connection or the large sum associated with doing so.
At Cegedim e-business, we recognise the significance of smooth integration between Dynamics 365 Business Central and your trading partners, ensuring streamlined business operations. Through the utilisation of Microsoft's API, we establish a seamless link, enabling businesses to customise their integration based on specific requirements. With Netix Flow's pre-built API connection; you gain direct control over the integration process, minimising potential risks associated with third-party API connections and fostering a higher level of trust and confidence in your system. The two platforms seamlessly exchange information securely and reliably.
Get in touch!
Why you need to integrate
Microsoft Dynamics 365 Business Central and Netix Flow

With Business Central and our integrated EDI solution, Netix Flow, you can take your business to the next level, enabling growth and success.Netix Flow automates the integration, translation, and delivery services of EDI and non-EDI documents to and from your Business Central ERP, providing a seamless connection between you and your trading partners.Not to be confused with Microsoft Dynamics NAV. While formally the same system, you or other businesses may still be using this version of the popular ERP system.

Integration Explained

Netix Flow uses Microsoft's web services that are built into Business Central 365. The web services allow full flexibility for building operation-centric services and providing industry-standard interoperability.
How we integrate
Netix Flow and Microsoft Dynamics 365 Business Central
Analyse business processes
The first step in any EDI integration project is to analyse the existing processes and determine how EDI can be used to automate and streamline these. Cegedim e-business will equip you with a detailed plan outlining their process including a clear scope of the work they'll complete, timelines, cost estimates and any technical requirements or considerations. All this is to make your integration process as smooth and easy as possible.
Identify EDI messages
Then we need to identify the specific EDI requirements for your business. It's important to note that EDI messages and protocols are typically determined by your trading partners' requirements. However, for our clients utilising Business Central integrations, the following are commonly found within their system: Sales Orders, Order Responses, Delivery Notes (ASNs), Invoices and Forecasts.
Configure Netix Flow
After determining whether you need a standardised or bespoke solution, we will configure Netix Flow according to your specific requirements. We utilise pre-built integrations to seamlessly integrate with Microsoft Dynamics 365 Business Central. This approach facilitates a fast and effortless deployment, allowing you to get integrated and start trading quickly.
Test and validate
Before going live, the EDI integration will need to be thoroughly tested to ensure that it is working as expected and that data is being properly exchanged between systems. The integration will be checked for errors and discrepancies which might include validating data mapping, identifying any missing or incorrect fields, and resolving any issues that may arise. By simulating real-world scenarios to ensure that the entire EDI process, from message creation to integration with your internal systems, functions smoothly.
Ongoing maintenance and support
Once your system is live, we want to ensure your integration continues to operate as smoothly as possible and any issues are addressed promptly. This requires a member of your business to constantly review the system and check for errors. We suggest proactive maintenance and support like our managed service that provides Netix specialists who will take the weight of this off your company. Our UK-based support team have been rated 4.9, and with different levels of support to suit your needs, they can always be on hand to help.
Gain EDI expertise with our managed service
Industries that benefit
from a Netix Flow to Business Central integration
What our customers have to say

Netix has set up EDI for our company and our trading partners and currently it works. The staff working on the project are all very personable and willing to take the time to explain what they are doing.

James W – Export E-Commcerce Business Development Manager
Interpet
Collaborating with Sharp, a leading technology provider

Our established collaboration with Sharp, a leading global innovator in technology, allows us to offer cutting-edge business solutions to enterprises across the UK and beyond. We work closely with their team to ensure the provision of an end-to-end solution and service that seamlessly integrates Netix Flow with Microsoft Dynamics 365 Business Central.
With over five decades of experience, Sharp has been a driving force in providing comprehensive technological support to commercial, public sector, and corporate organisations. This support enables businesses to effectively manage their order processing, financial operations, as well as warehouse and supply chain management through Microsoft Dynamics 365 Business Central.
Leveraging their extensive expertise in project delivery, Sharp comprehends the intricacies of your technology requirements. By actively listening and understanding your unique challenges, they design and deliver seamless solutions tailored precisely to your needs.
Discover Sharp's solutions
Want to know more?
If you're interested in learning more about integrating with Microsoft Dynamics 365 Business Central:
Fill in the form below,
one of our specialists will be in touch with you shortly.