Sage 200 is a comprehensive business management solution designed to empower organisations with enhanced control, visibility, and efficiency throughout their operations. As a powerful and flexible software, Sage 200 caters to the needs of growing businesses, enabling streamlined processes and seamlessly managing finances, inventory, sales, and customer relationships.
Why should you integrate your Sage 200 system with Netix Flow?
By integrating Netix Flow with your Sage 200 system, you can automate the exchange of crucial EDI business documents with trading partners, such as purchase orders, invoices, and shipping notices. This integration eliminates manual data entry, reduces errors, and accelerates order processing, resulting in improved productivity and streamlined supply chain management.
With the combined power of Sage 200 and Netix Flow, you can experience heightened control, visibility, and accuracy in your transactions, paving the way for optimised processes, strengthened relationships with trading partners, and sustainable growth.
Get in touch!
Discover Netix Flow

Visibility
Accurate data updated in real-time will allow you to make data-driven decisions with confidence.
Scalability
Netix Flow was designed to grow with your business – we use pre-configured trading profiles to enable our customers to quickly expand their eco-system.
Futureproof
Our fixed pricing structure is a future-proof model, incorporating message changes dictated by your trading partner to enable your business to grow without extra development costs.
Adaptive
Using a modular approach to integration, Netix Flow can easily change or upgrade connected systems without developmental costs.
Going beyond traditional EDI integration

Our integration with Sage 200 is designed with simplicity and ease of use in mind. We will install an SDBX extension onto your Sage system administrator, ensuring a smooth and efficient setup. Upon installation, a discrete yet powerful Netix button will appear on your Sage screen, providing convenient access to your EDI information whenever you need it.

This integration empowers you with real-time visibility and management capabilities, enhancing your overall EDI experience within the familiar Sage 200 environment. With Netix Flow, effortlessly navigate your EDI operations, facilitating swift decision-making and seamless collaboration with your trading partners.
How we integrate with Sage 200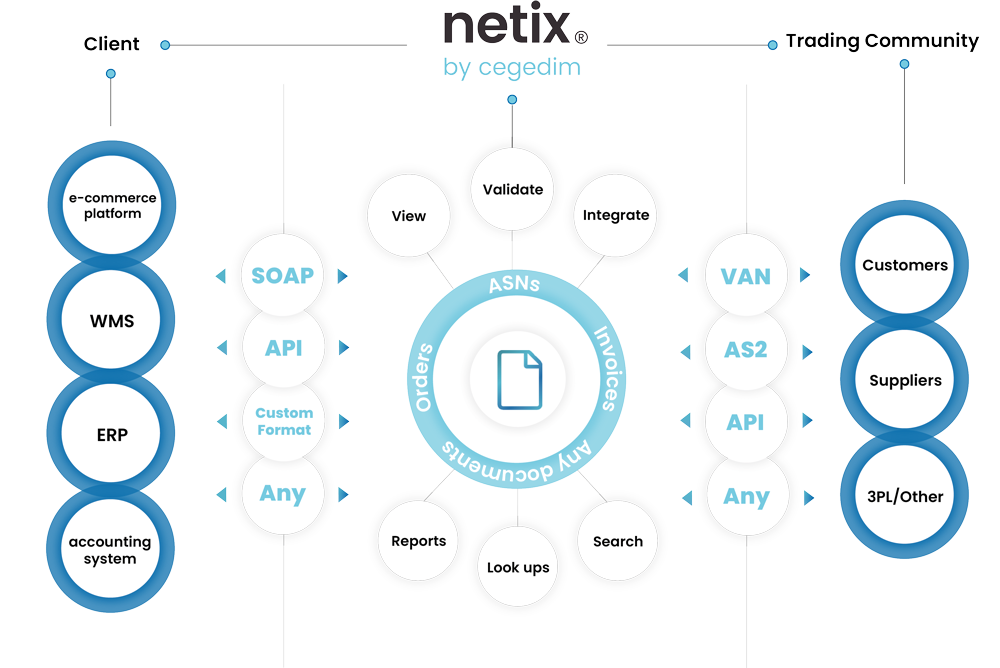 Integration and automation have gained significant attention as key strategies to enhance operational efficiency and visibility. We recognise that every business is unique, with distinct requirements for integration solutions. Whether you seek tailored integrations to align with your specific needs or prioritise a swift deployment, Netix Flow offers a comprehensive solution for both scenarios.
To cater to a wide range of requirements, we present our customers with a choice between "off-the-shelf" integration solutions and customisable options. This flexibility empowers you to select the approach that perfectly aligns with your unique circumstances. Whether you opt for a ready-to-use solution or a custom-built integration, rest assured, we are dedicated to delivering an integration that seamlessly caters to your precise business objectives.
Discover Netix Flow
The integration with Sage 200 is simple and very easy to navigate within Netix. Over 50% of our customers are now ordering via EDI and this saves a huge amount of time within my team. It has also increased our order processing accuracy. Overall, I've been very impressed with the product and the service provided.
How we can automate EDI message typesto work with Sage 200
Order Responses
While Sage 200 lacks the ability to generate Order Response messages, Netix Flow bridges this gap by enabling you to confirm order fulfillment details, such as the delivery date and contents. The system subsequently compares this information to the original order and generates clear notes indicating whether the order has been 'Accepted,' 'Not Accepted,' or if it needs to be 'Amended.'
Delivery Note
When a dispatch is created in Sage 200, Netix Flow automatically generates a comprehensive Delivery Note. This note captures the dispatched items, which might differ from the Order Response. Through seamless integration, Netix Flow efficiently transmits this information to your trading partner, eliminating the necessity for manual intervention."
Shipping Note
Netix Flow facilitates the generation of Shipping Notes when dispatches are created in Sage 200. Given that Sage 200 does not possess packing information capabilities, Netix Flow steps in to streamline the process using Advanced Shipping Notices, resulting in faster and smoother transactions.
Take a look at our EDI integration process
Analyse business processes
The first step in any EDI integration project we manage is to analyse the existing processes and determine how EDI can be used to automate and streamline them. With over 13 years of experience, our specialist team is equipped to offer recommendations on how to enhance your processes, including timelines, cost estimates, and any technical requirements. All of these elements will ensure that your integration process is as smooth and straightforward as possible.
Identify EDI messages
We need to identify the specific EDI requirements for your business, such as the required EDI message types and communication protocols. The most common message types we see with our Sage integrations are Purchase Orders, Order Acknowledgements, Invoices, Remittance Advice, Advance Shipping Notices, Inventory Report and Payment Advices.
Identify EDI message types
We'll then configure the solution to meet your needs, this will include setting up trading partner profiles and mapping EDI data to various Sage 200 fields. We use pre-configured profiles so that this stage of the process can be made as quick and easy for you to get set up and integrated sooner. This may also include configuring validation rules and business rules within the EDI integration to enforce data integrity, perform validations, and handle exceptions or errors during the data exchange process.

Test and validate
Before going live, the EDI integration between Netix Flow and Sage 200 will need to undergo comprehensive testing. This testing aims to ensure that the connections work as expected and that data is being exchanged accurately between the systems. The integration will be thoroughly examined for errors and discrepancies. This process includes validating data mapping, identifying and resolving any arising issues.
Ongoing maintenance and support
Finally, to ensure your Sage 200 integration continues to operate as smoothly as possible and that any issues are addressed promptly, ongoing maintenance and support will be required. Our UK-based support team are available during working hours, or 24/7 to offer a helping hand.
Check out our support packages
UK Based Customers Support
Our customers rated our support a 4.9 stars!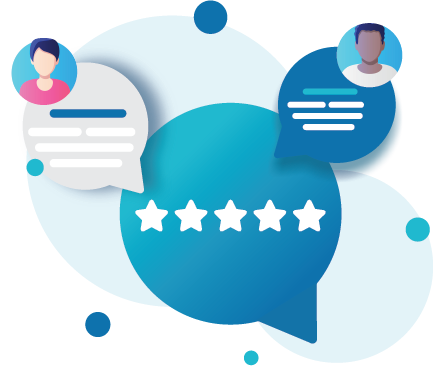 We recognise the importance of aftercare, which is why our support team provides a wealth of EDI expertise to assist you with the Netix platform. Our UK-based support is available to your team through email, phone, or our user-friendly ticketing system, ensuring that you have access to real people when you need it.
In addition, we provide various support packages and managed services to further assist your organisation, allowing you to customise your service according to your specific requirements.
Check out our managed services
Industries we support through EDI integration
Want to know more?
Speak to an expert today
Enter your details below or call us on +44 (0) 1772 977781