Whether you're just starting and exploring the world of electronic data interchange (EDI) or you're an experienced user looking for a more suitable solution, selecting the right EDI provider can be daunting. With so many options available on the market, making an informed decision can be overwhelming. This article will provide you with the essential information you need to ensure you make the right choice. We'll walk you through the different types of EDI connections, helping you understand the features and benefits of each, and provide you with tips on how to evaluate and select the right provider for your business.
Before diving into your decision it is best to review your business processes so you can find the solution and provider that best suits what you require. Some of the things you might need to consider:
The volume of messages you'll be sending – think about on average how many documents you process monthly
The message types you'll be sending – invoices, orders, credit notes, advance shipping notes, etc.
The number of partners you trade with
Any specific requirements for your industry
A popular quote goes, "Fast, cheap, and good – pick two. If it's fast and cheap, it won't be good. If it's cheap and good, it won't be fast. If it's good and fast, it won't be cheap. This can be applied to many things in life including EDI solutions.
Not sure exactly what you need out of your EDI solution? Why not book a call with one of our specialists today and discuss how we can help you drive operational efficiency within your supply chain.
Get in touch
Types of EDI
Choosing the right solution and provider for your business will depend on your specific needs and requirements. Before you start your search for an EDI solution, you should have a general understanding of the different types of EDI connections.
Direct
Direct EDI (also referred to as point-to-point EDI) does what it says on the label and will create a direct line of communication to connect you to your trading partner. This is most commonly achieved through on-premise EDI software. It might be important to note that for each trading partner, you will need a new connection. Therefore, it can be difficult to manage if you have multiple partners that trade via different protocols. Using a spider's web as a visual representation of how intricate this can become – it also becomes quite an expensive process the more trading partners you want to connect to.
EDI via VAN
EDI via VAN (standing for a value-added network) provides a much more simple way to connect you to multiple partners by offering a "middleman" in the form of a VAN mailbox. Meaning your business will only have the one connection that flows to and from this mailbox – as will each of your trading partners. This option provides a more secure method of transferring data and enables a faster onboarding process for new partners.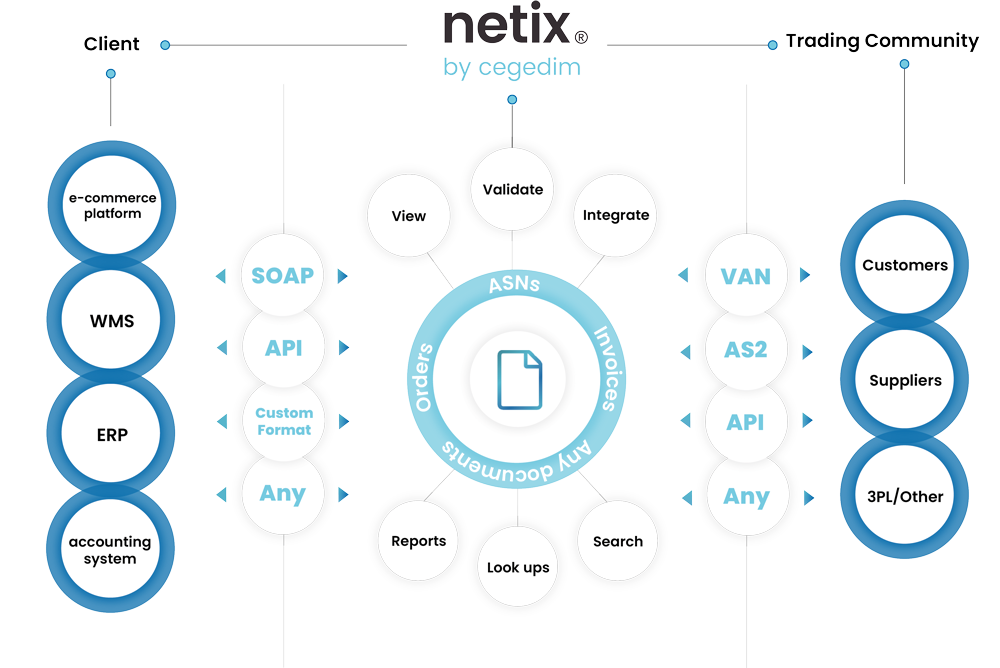 Web EDI
This is potentially the most beginner / user-friendly form as everything you need to operate the system is accessed online in your favourite web browser. Meaning you don't need to have any specialist IT or EDI knowledge to conduct EDI via a web portal. The EDI provider will present you with a hub of sorts for you and your trading partners to access.
When comparing EDI providers you will no doubt pay close attention to their features and benefit. Many other elements will need to be taken into consideration too:
Web-based vs on-premise:
An on-premise EDI solution would require your business to have hardware such as servers to receive and store the data; software to translate the EDI information and staff to monitor the systems. This gives your business full control over the management and security of the EDI system but will require an element of specialist EDI skills and knowledge within your team.
A web-based EDI solution frees up these internal resources and allows your business to outsource the setup and maintenance of the EDI system. Leaving all that's left is for you to put the system to use.
Support:
If any issues arise within your EDI solution it could prevent documents from being processed and cause significant delays within your supply chain. Orders and invoices won't be sent out which will result in delays with payments to and from suppliers. Disruptions like this will in turn lead to angry customers. Having the right support package is integral for your business you should evaluate the target response times as well as the different avenues for receiving support.
If you are a small business that exchanges just a few documents monthly, then you might find a standard support package where you can receive support via email or live chat is sufficient. Whereas if you trade globally, then you might require around-the-clock support for your operations in different time zones. For larger organisations, a managed service may be the ideal route to go down. The team responsible for your system will proactively monitor your connections and transactions ensuring that no disruption is made to your supply chain.
Websites like Capterra are a great way to research and compare genuine, unfiltered reviews of software services such as EDI solutions. The most common features you'll find to be reviewed are the level of support received, how easy the platform is to use and if the solution is good value for money.
At Cegedim e-business we aim to provide you with the most accessible way to connect and trade with your supply chain through our intuitive platform, Netix.
Unlike traditional EDI, we provide a unified commerce solution – enabling you to access your key EDI information safely whenever you need it, from wherever suits you. By using preconfigured trading partner profiles, our installation teams can get you set up and running faster to start harnessing the benefits of EDI straight away. With our future-proof pricing model, you can confidently expand your trading network knowing it doesn't come with any additional development costs. We are with you every step of the way, after implementation, we offer our customers various support packages to cater to their needs. Our customers rated our support 4.9 / 5 stars.
Want to know more?
If you're interested learning more about our SY solutions:
Fill in the form below,
one of our specialists will be in touch with you shortly.