In this whitepaper you will learn how to set your supply chain up for success by implementing digital automation to:
Drive operational efficiency
Improve customer relations and retention
Create agility and resilience in your supply chain
Businesses are still feeling the long-term effects of the Covid pandemic. Combining this with the rise of living costs, retailers in particular, need to rethink strategies in order to stay competive.
From speaking to our customers and attending discussions at the RSCL Expo, we've put together this whitepaper. The following is why your business needs to focus on automation and digital transformations in 2023.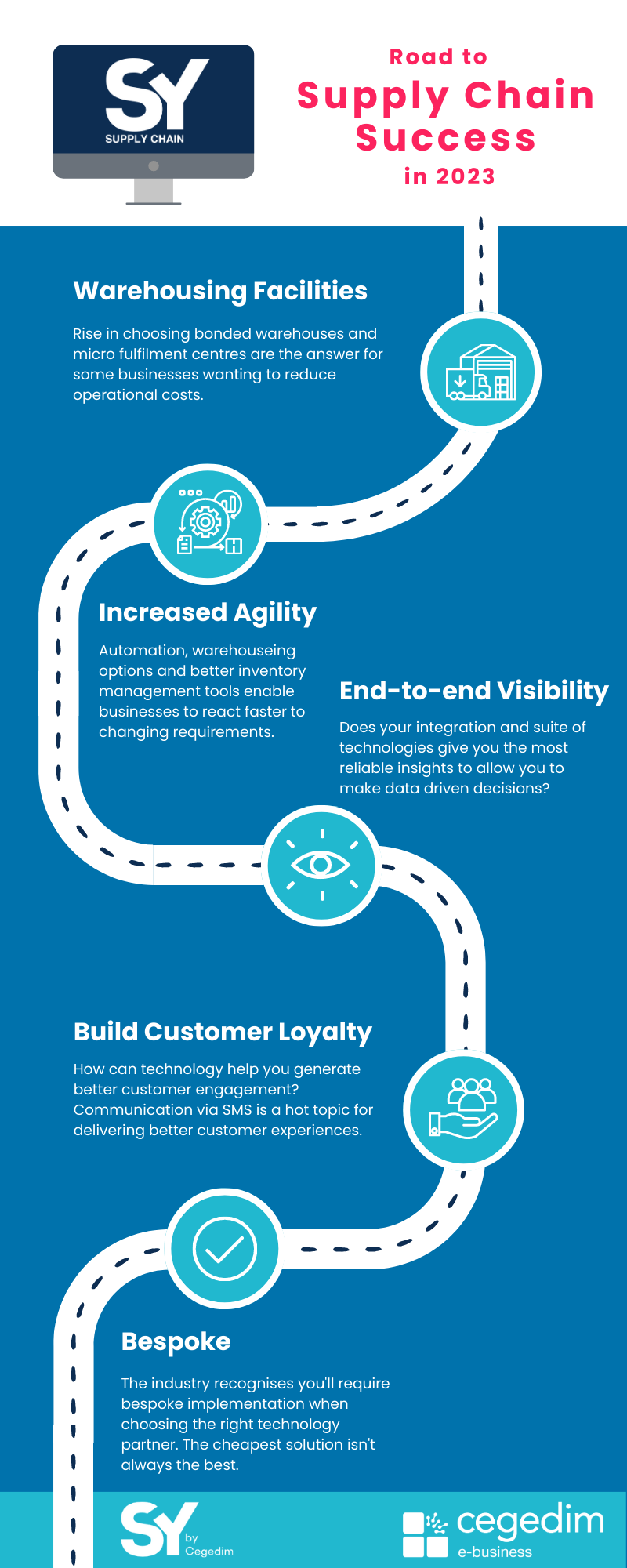 Reduce operational costs:
By carefully evaluating the type of warehouse that suits your business needs. The rise of bonded warehouses and micro fulfilment centres seem to be the answer for some businesses.
Increased agility:
Most businesses need more agility when it comes to delivering goods and services. Automation, warehousing options, and better inventory management tools enable businesses to react faster to changing requirements.
End-to-end visibility:
Accessing information that enables better decision making remains a key area of focus when it comes to delivering technology solutions. Businesses need to be wary of the type of integration and suite of technologies that will provide them with the right insights.
Focus on building customer loyalty:
Increased and changing customer expectations (returns, rewards etc) mean that businesses need to use technology to generate better customer engagement. The ablility to communicate via SMS is one of the hottest topics in terms of delivering better customer experiences.
Ensure your digital solution addresses your bespoke needs:
There is an industry wide recognition that most businesses require a level of bespoke implementation when it comes to choosing the right technology partner. Businesses need to be mindful not just of how the solution will be implemented, but also how ongoing aupport is provided. The cheapest solution might burn you further down the line.
To continue reading the full whitepaper; you can download it for free using the link below.
Download Here
Want to understand your supply chain needs?
Speak to an expert today
Enter your details below or call us on +44 (0) 1772 977781