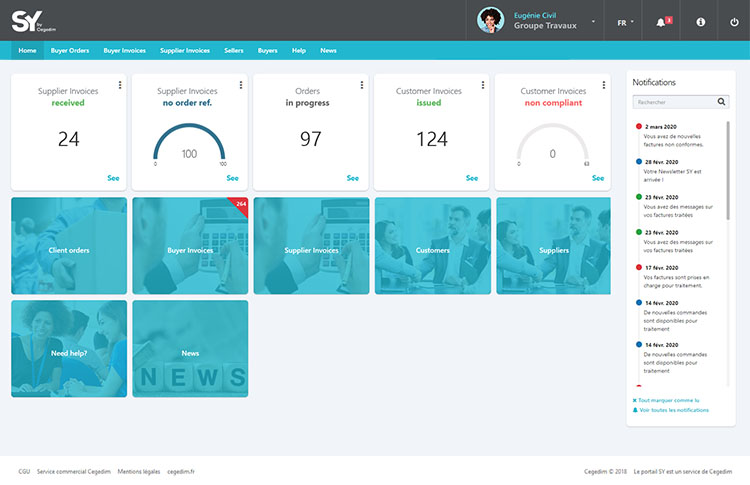 Why switch to digitised invoicing?
Reduce your administrative costs
Accelerate e-invoicing processing
Improve your company's cash flow management
Improve the reliability of the data in your information system
Avoid unnecessary corrections and litigation
Streamline the circulation of your electronic invoices
Route them to the right department
Reduce your carbon footprint
A unique solution for the digitisation
A unique solution for the digitisation
Digitisation of
your customer invoices
Enter your invoices via the SY portal, regardless of the digitisation methods used by customers, in paper format or in electronic format. The structured files which are issued from e-invoicing include all legal and "business" data and an indicator enabling invoices to be processed in the correct way (EDI, signed PDF, published) and with the proper routing.
SY offers 5 modules
to improve processing of your digitised invoices:
Business control of invoice data to reduce and block disputes
Automatically and manually populate invoices with complete information
Tax digitisation of invoices and electronic archiving in compliance with legislation
The provision of files based on routing parameters to the various departments
Comprehensive reporting for process traceability and flow and data tracking
An interoperable network
for connected buyers and suppliers
SY enables customers and suppliers to connect to each other and to exchange invoices with all connected companies via a single link, regardless of the systems, formats and digitisation solutions used. Thanks to the powerful interoperability of our network, clients of the solution are immediately connected to their partners.