In this FAQ you will learn:
The benefits of ASNs
Why ASNs are critical for shipments
The technical & business challenges
Q: What is an ASN?
A: An Advanced Shipping Notice (ASN) is an electronic notification sent directly to the customer, supplier, or 3PL provider. It follows a similar format and structure to a delivery note, the main difference being an ASN contains more information and is sent ahead of delivery.
Q: What are the benefits of Advanced Shipping Notes?
A:Benefits for customers
Cost-cutting: ASNs reduce receiving costs by as much as 40%.
Efficiency: unique identification of pallet containment, allowing staff to speedily identify shipments without interfering with the delivery contents. Improved processes: businesses can adequately prepare for deliveries by ensuring they have sufficient staff and space allocated for the upcoming delivery.
Inventory management: reduces the amount of stock held within a warehouse or distribution centre – enabling accurate data on despatch times and dates.
Benefits for suppliers
Improved relationships: satisfaction rates increase through accurate data and informed decisions empowered by concise delivery dates and streamlined order processing.
Faster distribution: sending despatch information ahead of the delivery gives the supplier better visibility and provides sufficient time to prepare, allowing the shipment to be passed through distribution centres quicker.
Greater visibility: shipments are tracked throughout their delivery cycle by scanning the SSCC barcode. Faster payments: invoices can be automatically matched and approved against ASN delivery details.
Q: What are the technical challenges when implementing ASNs?
A: To facilitate ASN creation, businesses need to consider the technical challenge. Most back-office systems (BOS) don't support the allocation of products into boxes and/or pallets. To enable the allocation process, suppliers need to utilise an EDI portal solution in conjunction with a delivery note or an order received through EDI.
Smaller suppliers use an EDI portal system – this allows them to take an order response, export the product details and quantities and in-turn generate ASN details. A supplier will need to manually allocate the product into boxes/cartons, then palletise the delivery.
Larger suppliers with Warehouse Management Systems (WMS) in place tend to have delivery note integration. This is beneficial as delivery quantities are automatically formatted correctly. To create an ASN, product details and quantities must be allocated into relevant boxes and pallets as advised by the warehouse.
Technically advanced suppliers have the option of automating ASN creation. Suppliers who utilise Warehouse Management Systems (WMS) can automate the creation of ASN and SSCC labels based on set warehouse management data.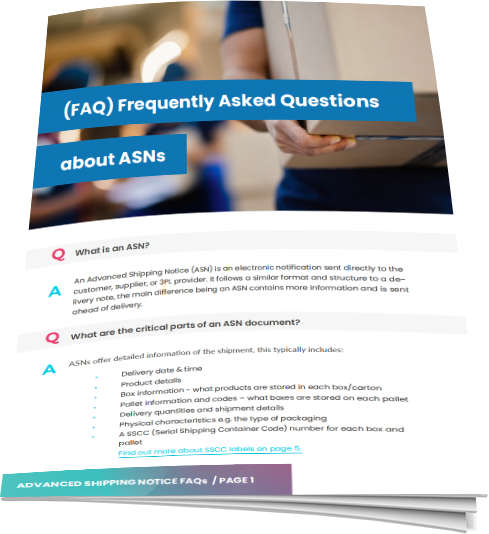 To find out how your business can improve their buyer relationships and increase visibility, download our whitepaper!
Download ASN FAQ