Integrate your EDI information with Sage accounting system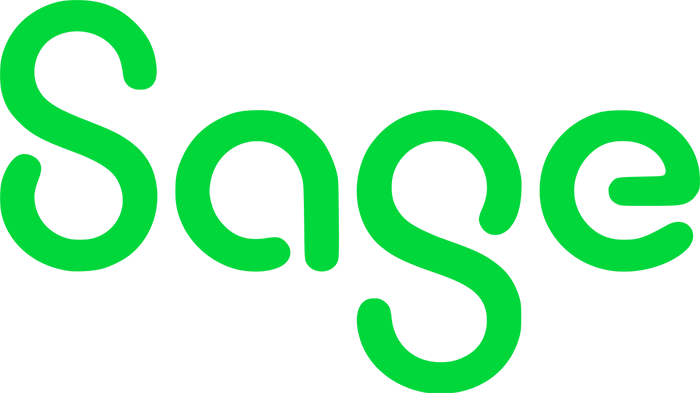 Digital transformations are a necessity, businesses can't rely on manual data entry to process and manage their financial transactions efficiently and accurately anymore. You can achieve this by integrating your EDI (Electronic Data Interchange) data with your Sage accounting system. With this integration, businesses can automate the exchange of financial data and streamline their financial operations.
Easily and quickly connect to Sage 50, 100, 200, 500 or X3.
Get your EDI information delivered straight into your Sage software.
Once your system is up and running it's easy to add new trading partners as your business grows.
EDI Integration
With Popular Sage Systems
Sage's EDI architecture typically includes three main components:
Translation Connectors
An EDI translation connector acts as a middleware, facilitating the translation and transformation of business documents into a standardised format, which can be understood and processed by your Sage system, and vice versa. This includes EDI message formats such as EDIFACT, or XML. Netix helps to ensure that your financial data is accurately translated and easily accessible from a centralised point. They are also a key component in the automation of your processes.
EDI Mapping
We utilise pre-configured mapping to allow business to quickly integrate their EDI information with their Sage system. The compatible exchange allows your business to translate EDI messages to the corresponding fields in Sage accounting system. Offering you greater flexibility and control over your financial data, whilst enabling you to tailor the EDI integration to meet your specific business needs. With the ability to customise, you can achieve the level of granularity and detail you need to manage your finances effectively.
Communication Protocols
Communication protocols define how the data is transmitted between your EDI system and your Sage system. They dictate the format and structure of electronic documents, such as purchase orders, invoices, and shipping notices. They also specify how these documents are transmitted, including the communication method, data encryption, and error-handling procedures. With the ability to handle various communication protocols such as AS2. This component provides you with the peace of mind you need to know that your financial data is protected and secure at all times.
Experience unparalleled control and visibility by syncing your business information

Visibility
Accurate data updated in real-time will allow you to make data driven decisions with confidence.
Scalability
Netix was designed to grow with your business – we use pre-configured trading profiles to enable our customers to quickly expand their eco-system.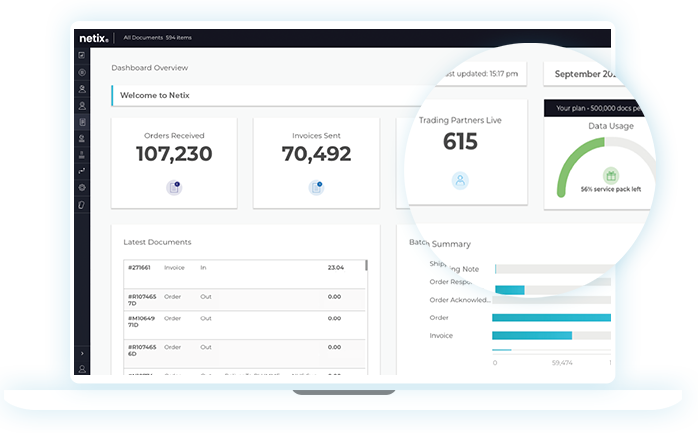 Futureproof
Our fixed pricing structure is a future-proof model, incorporating message changes dictated by your trading partner to enable your business to grow without extra development costs.
Adaptive
Using a modular approach to integration, Netix Flow can easily change or upgrade connected systems without developmental costs.
Send various EDI messages through Netix Flow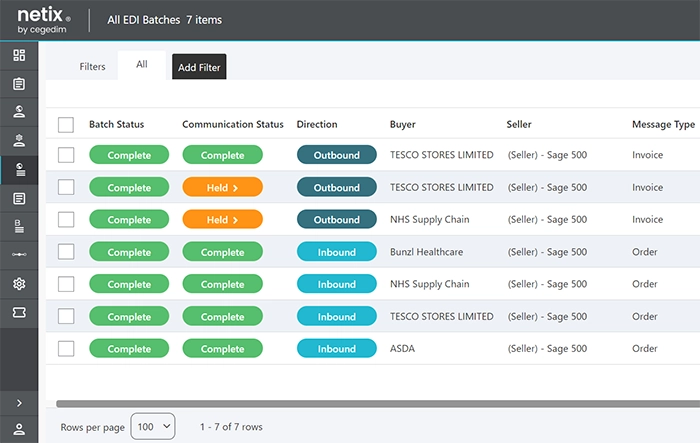 With Netix Flow, you can streamline your financial operations and reduce errors by automating the exchange of financial data between your trading partners and your Sage system, including:
Invoices: Automatically import and process invoices from your trading partners directly into your Sage system.
Orders: generate purchase orders in your Sage system based on orders received from your trading partners.
Shipping Notices: receive shipping notices from your trading partners and update your Sage system with shipment details.
Payment Remittance: receive payment remittance advice from your trading partners and update your Sage system with payment details.
Speak to our team
A flexible approach to EDI integration
Integrate with Sage for full end-to-end visibility

Traditional EDI integration has always focused on file conversion and exchange, with the EDI provider translating your EDI message into a format compatible with your Sage sytem, before presenting the file for import. However, this rigid process offers little flexibility for businesses seeking to make changes or adjustments to their Sage or EDI message structure. Any changes to these systems will require the EDI provider to rewrite the integration map, which can be slow and costly.

We take a different approach to Sage integration. Our modular approach allows us to integrate your Sage system into our cloud-based solution with greater flexibility and ease. We understand that businesses are constantly seeking to improve their systems, which is why we offer the freedom to easily update or change your existing system or trading partner profiles through our Netix flow solution. This allows businesses to make changes quickly and efficiently without the need for costly and time-consuming rewrites of the integration map.
We integrate with various Sage products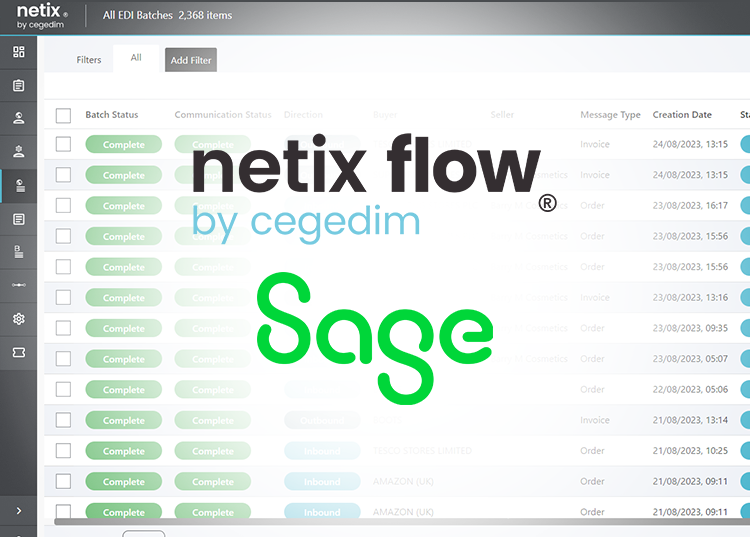 Our experts have extensive experience integrating a variety of Sage products with Netix Flow, including but not limited to:
Get in touch
How we integrate
Netix Flow and Sage
Analyse business processes
The first step in any EDI integration project we manage is to analyse the existing processes and determine how EDI can be used to automate and streamline them. With over 13 years of experience, our specialist team is equipped to offer recommendations on how to enhance your processes, including timelines, cost estimates, and any technical requirements. All of these elements will ensure that your integration process is as smooth and straightforward as possible.
Identify EDI messages
Then we need to identify the specific EDI requirements for your business, such as the required EDI message types and communication protocols. The most common message types we see with our Sage integrations are Purchase Orders, Order Acknowledgements, Invoices, Remittance Advice, Advance Shipping Notices, Inventory Report and Payment Advices.
Configure your EDI solution
We'll then configure the solution to meet your needs, this will include setting up trading partner profiles and mapping EDI data to various Sage fields. We use pre-configured profiles so that this stage of the process can be made as quick and easy for you to get set up and integrated sooner. This may also include configuring validation rules and business rules within the EDI integration to enforce data integrity, perform validations, and handle exceptions or errors during the data exchange process.


Test and validate
Before going live, the EDI integration will need to be thoroughly tested to ensure that it is working as expected and that data is being properly exchanged between systems. The integration will be checked for errors and discrepancies which might include validating data mapping, identifying any missing or incorrect fields, and resolving any issues that may arise. By simulating real-world scenarios to ensure that the entire EDI process, from message creation to integration with your internal systems, functions smoothly.
Ongoing maintenance and support
Finally, to ensure your Sage integration continues to operate as smoothly as possible and that any issues are addressed promptly, ongoing maintenance and support will be required. Our UK-based support team have been rated 4.9, and with different levels of support to suit your needs, they can always be on hand to help.
Our managed service offers you EDI expertise
Industries we support through EDI integration
A reliable EDI provider
UK Based Customer Support
Utilising a EDI provider with impeccable aftercare is essential, that is why we offer a wealth of resource through our Support Team. Our UK based support with 4.9 star rating demonstrate their commitment to providing excellent customer service. Our varying support packages means that your business can tailor their services to their needs, ensuring that businesses get the right level of support at the right price.
What our customers have to say

The integrations are easy and in cases where they haven't been, the project team have been amazing at going the extra mile to get things over the line. They are fantastic from a technical perspective and essentially trained the M&S onboarding team on how to use their own system in the process!

Daniel D – Head of Digital
Supernutrients
Want to know more?
If you're interested learning more about Sage EDI integration:
Fill in the form below,
one of our specialists will be in touch with you shortly.